NEWS FLASH: AUSTRALIA LAUNCHES THE NEW TSS VISA (SUBCLASS 482) on 18 March 2018, replacing 457 Visa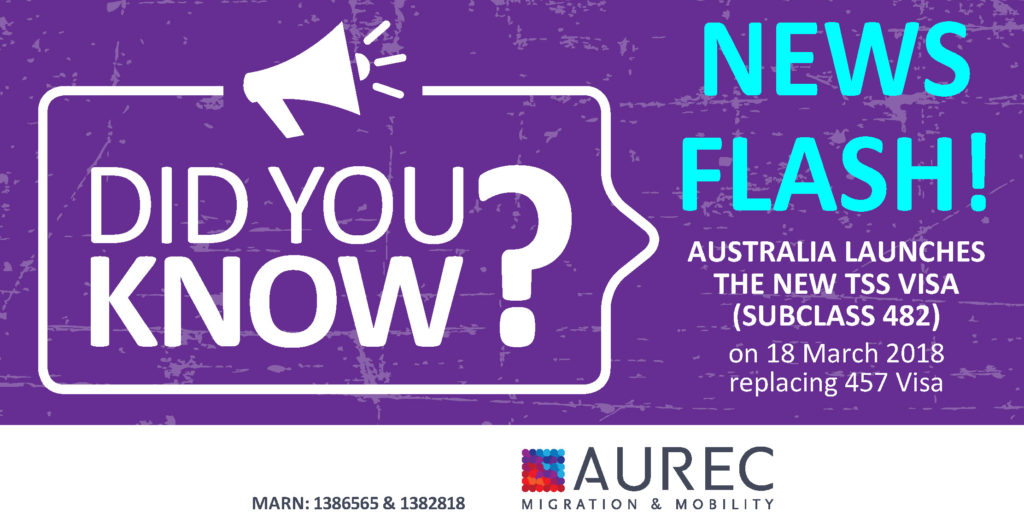 The Department of Home Affairs (formerly the Department of Immigration) announced the commenced on Sunday.
Some of the main changes and features for the TSS (Subclass 482) are:
1. The main criteria and conditions remain very similar to the old Subclass 457 visa – and still requires a company-sponsorship and nomination stage along with the main Visa application.
2. The Temporary Skilled Migration Income Threshold (TSMIT) has remained the same: A$53,900 per annum based on 38 hours per week, plus superannuation plus leave entitlements.
3. The Training Expenditure requirements have changed to incorporate a fixed "Training Levy" amount per nominee per year (this has not been passed as yet). For the moment the old training requirements of the the 457-visa will continue.
4. Application Fees have increased and now depend on the Medium/Long Term List or the Short Term List.
5. Visa applicants holding a 457-visa before 18th March 2018, or those who hold the new subclass 482 under the Medium Term Stream or the Short Term Stream WILL be eligible for the transitional arrangements (TRT system) with specific requirements and the qualifying period for the TRT stream will increase from 2 years to three years in most occupations.
6. From 18 March 2018 Labour Market Testing is a requirement at lodgement and from 18 June 2018 it must have been undertaken within last 6 months (currently it is previous 12 months).
7. English Requirements Change:
– For occupations on the TSS Short Term stream list: The English-language skill requirements remain the same as the previous Subclass 457 visa – Average 5.0 (or equivalent) with no band less than 4.5. (An exemption can be obtained by providing proof of five-years full-time study at secondary or higher education level where the medium of instruction was English).
– For occupations on the TSS Medium to Long Term stream list: Same Exemption, except that the English-language skills requirements have been raised to a MINIMUM score of 5.0 in EACH component.
8. Mandatory Skills Assessments apply for some occupations and passport holders.